The Divine Nanas: feminine, lyrical, exuberant, playful, dancers, full of humour and vitality, living art and plastic art
Poetic and luminous stroll in the gardens, in the squares, in the streets of the Cities…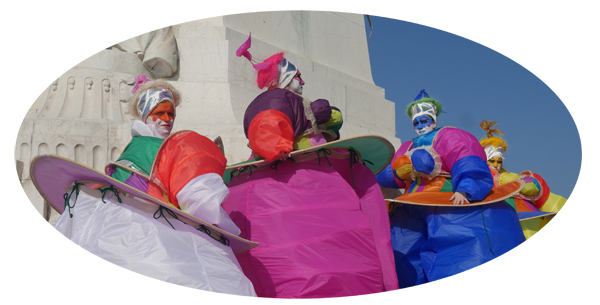 This creation, freely inspired by the extraordinary work of Niki de Saint Phalle, manifests in volume, colour and light, a tribute to the beauty of the voluptuous shapes of the sculptures "Les Nanas"…
The company La Belle Zanka proposes itself through "stilt-walker" characters to show to the greatest number of people these magnificent sculptures which from frozen will take body and life by evolving in the manner of a trompe l'oeil.
The costumes are bright from the inside, in order to allow the canvases to give a "stained glass" effect, the light being diffused outwards from top to bottom to the character's headdress…
They stroll majestically, with a heart in their hands, a balloon or surprises to distribute… playing with the audience through playful scenarios sowing good mood on their way, with their "laughing concert", igniting the faces of the spectators who answer in a burst of joy, without really knowing exactly why, just for the pleasure of laughing together…
They are high in order to be seen in the distance, evolving gracefully, they sometimes freeze and give the spectators the feeling of being really in front of luminous sculptures, which they discover posed at the bend of a garden, a fountain, a porch…
This choreographed parade is a poetic ode in movement of great beauty that plays in a surprising way between Plastic Art and Living Art, leaving behind it an original feeric imprint.
It is composed of eight characters, it can also be played with 6 – 4 – 3 characters…
For Niki de Saint Phalle, chicks embody femininity, they dance and celebrate, Niki de Saint Phalle creates these women in the spirit of freedom, their expressions, their exuberant shapes, the warm and flashy colours, their immense size, impress the eyes of the spectators who discover them challenging the urban environment in which they live, they embody women free of everything,
Niki de Saint Phalle, through this creation embodies "the freedom of women" which is a very important subject in the 80s and which today has regained a dynamic momentum by being at the heart of our daily news.
Niki de Saint Phalle (1930-2002) is one of the most popular artists of the mid-20th century, a visual artist, painter, sculptor and filmmaker. While she is best known to the general public for her famous "Nanas", her work is also known for her political and feminist commitment and radicalism – It was in 1965 that Niki de Saint Phalle created the first of her famous "chicks" inspired by one of her pregnant friends, in papier mâché and wool. The first "Nanas" ancestors of the "Protective Angel" are made of rags, but also of wool, fabrics or cotton canvas. The artist also uses plaster and papier mâché on metal supports. But in view of the success of her works, she favoured polyester resin, which was easier to use for large dimensions.
Translated with www.DeepL.com/Translator
Skip back to main navigation